The Faces of American Medicine?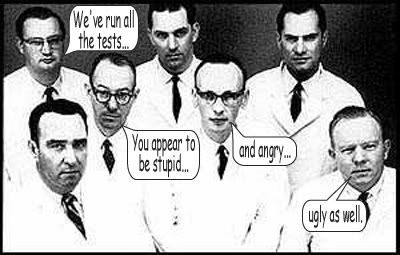 Unfortunately for ARD sufferers, the faces above are all too telling of the tiring and wearisome journey that is often encountered at the hands of American doctors. Though it is often said that doctors are as aggravated (and stumped) as the patient when it comes to adhesion related disorder, this is of little comfort to the person whose life has come to a standstill due to the painful, perplexing and infuriating disorder of adhesions.
Recently, I received a letter from a woman who is on that "what's wrong with me?" medical merry-go-round.....and, she is quite weary of it all. 
Here is a portion of her letter: 
Karen, thank you for your quick response.  Yes, I have read my op notes and adhesions; scar tissue and endometriosis are common words describing findings within me.  I have also had PID which I know is another cause of adhesions.  I too believe in my heart that the back pain which I experience is related to ARD also.  Symptoms I currently experience are; abdominal pain-dull and sharp pains periodically, back pain, nausea, headaches, leg pain radiating from my low abdomen, stomach pain, & painful bowel movements.  Emotionally, I feel hopeless, defeated, totally frustrated and at times have wanted to take that kitchen knife and repeatedly stab my abdomen wanting the pain to stop, of course we KNOW that is NOT the solution.  I don't care to speak to another Doctor here in the US, that doesn't understand what I am talking about...it is a waste of my $$$ and time and chips away at the person I am.....