There's a joke about a man who accidentally dropped a $20 bill into an outhouse toilet. He promptly reached into his pocket, drew out another $20 bill and threw it in as well. When asked why he would do such a thing, he replied: I wasn't about to go in there for a measly twenty dollars!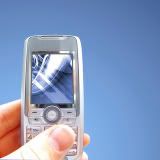 This bit of humor came to mind a few nights ago when I accidentally dropped my cell phone into the toilet. I realized later, much later, that had it been something else that I dropped, I would have made a complete and thorough plan about the retrieval process. But, being it was my cell phone, there was an immediate and instinctive reaction: my hand was in that toilet as quickly as the phone was falling to the bottom. Thankfully, the toilet water was clean, but still.....it is a toilet....Okay, in case you don't know, women, in general, will think long and hard before immersing their hand in a toilet, regardless of the fact that the water is clean. The toilet could be filled with Evian, but a woman doesn't care....she ain't going in there! However, all thoughts of the throne's purpose never entered my mind. It was my cellphone and I knew it was allergic to water!
Yes, I let out a loud disgusting groan as I went in, but my hand was as fast as lightning. As quickly as the phone made contact with the bottom--(clink)--it was out. Of course, my eyes immediately flashed to the control panel. (screen). Amazingly, my clock was on, and the sky blue background, complete with clouds, was still intact.
WHEW!
I grabbed a towel and began rubbing it off as if it were a long lost lover who had just stepped from my backyard pool, dripping wet. I opened it up. The light came on, though there were droplets of water across the screen. I wiped it dry and then slapped the phone onto the towel several times, just to make sure that any water that may have had time to seep inside would submit to the assault and surrender onto the towel.
My daughter and son-in-law walked into the house just in time to see me slapping the phone onto the towel.
"What'd you do? Drop it in the pool?" my daughter asked.
"No, the toilet...but I got it out in a snap. It's okay, all systems are go."
"No, if you dropped it in the toilet," my son-in-law said, "its got water in it. You better take it apart and let it dry out."
"Who got it out for you?" my daughter asked. (See, I told you we don't go in there.)
"I got it out!" I replied, which caused her to fall in the floor in laughter.
"Oh, my Lord. You put your hand in the TOILET?"
"It was clean water."
"Oh my Lord! You put your hand in the toilet!"
My son-in-law continued, "Let me see it."
I held it up to prove to him that it still worked.
"Naw," he said, "You better take it apart and let it dry out overnight. If it went in the toilet, its got water in it."
My daughter continued to howl.
"You don't understand," I protested, "As soon as it fell in, I had it out."
"But it went in," he argued. "It doesn't matter how fast you retrieved it. It got wet as soon as it went under."
"Look," I retorted, "see, clock is on, light is on...open it up...screen is on, menu is available..."
About that time, the entire phone went black.
"Lights out," my son-in-law snickered.
"Well crap!" I replied, "That makes me so mad! I got it out within seconds!"
I threw it down on the counter. The unfaithful traitor!
My son-in-law snatched it up and began taking it apart. "See, it's wet in here....oh yeah, it's really wet. The SIM card is wet too. But...it'll probably be okay if we let it dry overnight."
I watched as he placed all the parts across the counter one by one.
"Mom," my daughter guffawed, "you should've flushed it!"